//= UD_THEME_DIR; ?>//= $wrapperVersion; ?>

Engineering industry
The Swedish engineering industry forms the backbone of the Swedish economy. It is the most extensive branch of industry in Sweden, in terms of both production value and the number of people employed. The Swedish engineering industry is becoming more and more global. Many companies have part of their production outside Sweden and even outside the borders of the Nordic region. Strategic and technical planning and the coordination of purchasing still largely takes place in Sweden. Compotech is a strong partner helping the engineering industry by providing high-quality components and subsystems inside and outside Sweden's borders. The finished products must be supplied on time – delays are not permitted. You need components that are reliable, safe and above all of the right quality. Compotech offers you solutions that help you to manage the challenges in your industry.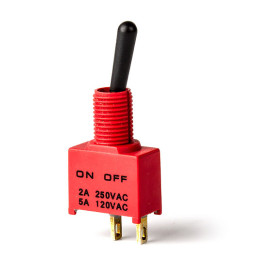 Vippomkopplare
Vippomkopplare används inom industriella applikationer för maskiner och apparater men även inom belysningsindustrin. Den stora möjligheten att få fram olika typer av vippor gör att omkopplarna passar bra att använda till designprodukter. Vipporna kan om man vill, vara det lilla extra som sätter extra karaktär på slutprodukten.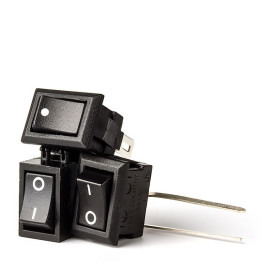 Rocker switches
Rocker switches are used for lighting and also frequently as main switches for various machinery in industry. The rocker switch has a less protruding shape than a toggle switch and is also easier to dry off. In industry they often have printed symbols indicating which function they have.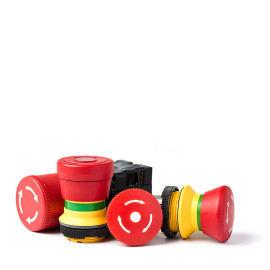 Emergency stops
Emergency stops are used for machines and robots in industry and in the marine environment. Other examples of instances where emergency stops are necessary are for doors, escalators, transport vehicles, lifts and cranes. Emergency stops are available in many different designs to cope with a wide range of temperatures and environments. They often have a high IP classification, and a minimum of IP65 for "clean" environments and IP69K for the very highest safety level.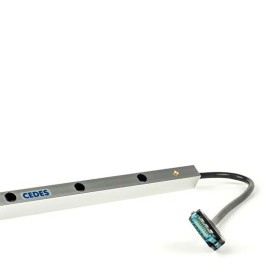 Safety curtains
Light curtains are powered by infrared light and include sensors that are absolutely essential for safety in and around lifts and doors. IR sensors detect people and objects that are moving in the detection area and can also be used for comfort control.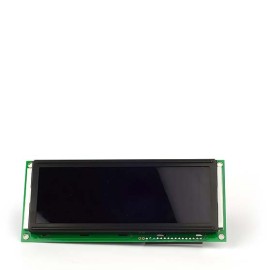 Displays
LCD screens are made up of liquid crystal molecules, hence the name "Liquid Crystal Display". LCD technology is divided into the passive and active (TFT) subcategories. Passive LCD screens are available as pure graphic displays and are based on a matrix in the X and Y axes, e.g. 320×240 pixels, or only character based with 1×8 up to 4×40 characters, 4 rows of 40 characters per row and each character consisting of 5×7 pixels.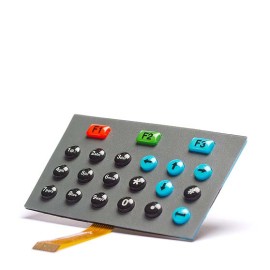 Keypads
Silicone and membrane keypads can be designed well when you need a pushbutton or control panel that is to be customised to the application with a unique appearance and low mounting depth. Membrane and silicone keypads provide excellent opportunities for flexibility since they can have a PET/FPC flexible circuit for simple installation for a PCB.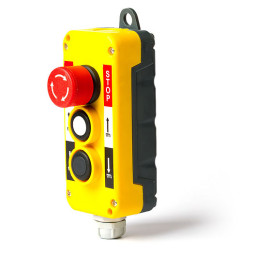 Control boxes
Control boxes can be permanently mounted, work as handheld units or be mounted on a DIN rail. The handheld units can be equipped with a magnet system for attachment to a vehicle, for example. The permanently mounted control boxes can work as a control box for doors or as a control unit for hydraulic systems for vehicles. The control boxes are often fully customised, where different types of selector switches, buttons and displays are included and it is of course the application that determines which enclosure class is required and which emergency stop works best in the box.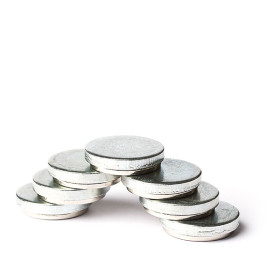 Permanent magnet systems
In almost all cases a magnet will be combined with iron to increase the performance. We call this a magnetic system and we can supply both magnet rotors, magnetic couplings and magnetic holding systems with the associated magnetic calculation consultation.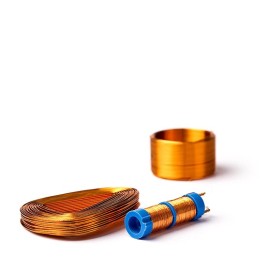 Induktiva komponenter
Förhållandet mellan det magnetiska flödet och strömstyrkan kallas induktans. Induktansspolar (även kallade "induktorer") används för att filtrera växel- och likström och för att lagra energi. En induktansspole släpper fram likström, men spärrar mer eller mindre för växelström, det vill säga en induktans har, mycket förenklat, en motsatt verkan mot en kondensator.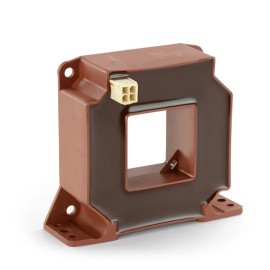 Current sensors
A current sensor is a device that detects electric current (AC or DC) in a conductor, and generates a signal that is proportional to this current. The signal generated can be an analogue voltage or current or even a digital output. The information can then be stored for further analysis or used for inspection purposes.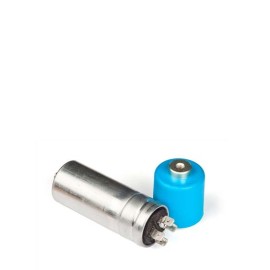 Capacitors
Our capacitors are mainly found in power supply applications such as DC, AC and snubbers. The main applications are energy distribution, power generation, hybrid/electric vehicles, ships and railways. The design is based on plastic film or metallised paper, which often provide significant advantages compared with using capacitors based on electrolytic technology. While we have a broad standard range, we do of course develop customised types. The largest models also cover the requirement for capacitors for very high power levels.