//= UD_THEME_DIR; ?>//= $wrapperVersion; ?>

Emergency stops
Emergency stops are used for machines and robots in industry and in the marine environment. Emergency stops are of course also essential for doors, escalators, transport vehicles, lifts and cranes. The criteria set for emergency stops are that they must always be ready for use and that their activation must result in the immediate shutdown of the machine. Resetting the emergency stop must not initiate a re-start and the colour is always red/yellow. Emergency stops are available in many designs and they often have a high IP classification of a minimum of IP65 for "clean" environments and IP69K for the very highest safety level. Combine them with wiring, a control box assembly or build them into a system.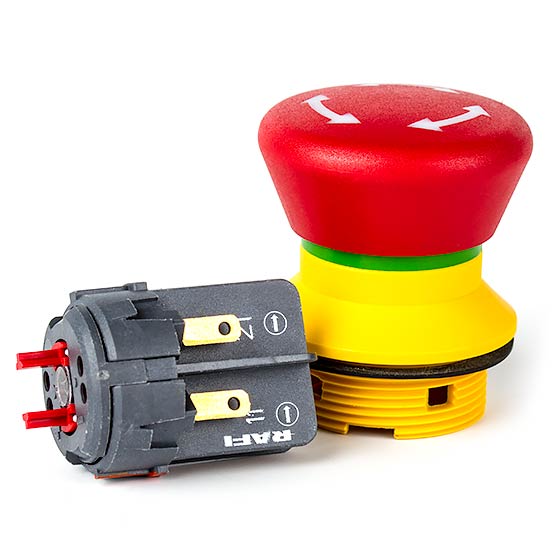 RAFIX 22FS+
An emergency stop with an additional NO contact in compact format which is included in RAFI's 22 FS+ series. Emergency stops are normally sold with closed contacts but in this range there is also a variant with an additional signal contact which is normally open. The additional contact means that a controlled shutdown can, for example, be initiated from another location via the control panel, depending on the location and type of hazard. The RAFIX 22FS+ is available with quick connect terminals or as a THT variant for PCB mounting. The emergency stop can also be designed into a complete module system, which we can design together with you.
The emergency stop is suitable for mounting holes with a diameter of 22.3 mm. The depth behind the panel is 9.2 for PCB mounting and 27 mm for quick connect terminals.
Control boxes
Control boxes can be permanently mounted, work as handheld units or be mounted on a DIN rail. The handheld units can be equipped with a magnet system for attachment to a vehicle, for example. The permanently mounted control boxes can work as a control box for doors or as a control unit for hydraulic systems for vehicles. The control boxes are often fully customised, where different types of selector switches, buttons and displays are included and it is of course the application that determines which enclosure class is required and which emergency stop works best in the box.
Per Holmqvist
Business Development

per.holmqvist@compotech.se

+46 8 441 5807